think games are just for fun?
think again
Persuasive Games is
an innovator in games beyond entertainment
Founded in 2003 by technology, marketing, design, and education professionals, we are an independent developer of games for

advertising, corporate learning, K-12 education, politics and political outreach

, and other uses outside entertainment.
we also consult and advise to help
you avoid making games for bad reasons
(like: the specter of gamification,
brand manager jealousy,
false dreams of youth,
trendiness,
caprice...)
We create original games as well as offering
our services to selected clients
some of the folks we've worked with:

(Our very first release was also the
first official videogame
for a U.S. Presidential candidate)
our founding partner Ian Bogost
wrote the book on persuasive games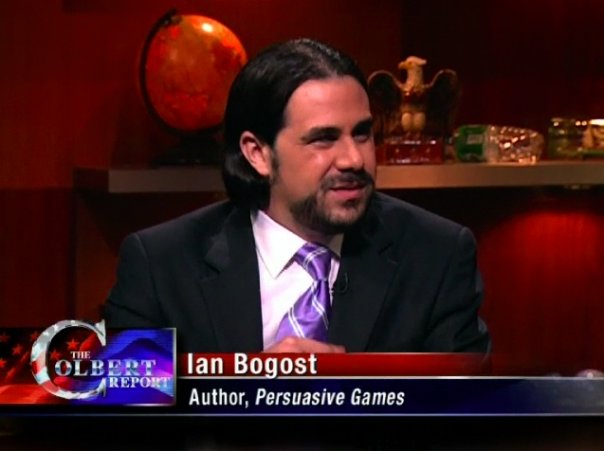 Dr. Ian Bogost, a founding partner and the chief designer at Persuasive Games, is a world-renowned technology researcher and writer. He is Ivan Allen College Distinguished Chair in Media Studies and Professor of Interactive Computing at the Georgia Institute of Technology, where he also holds an appointment in the Scheller College of Business. Bogost is also a Contributing Editor at The Atlantic.
Among his many books is Persuasive Games: The Expressive Power of Videogames (MIT Press, 2007), a seminal work on the uses of games in politics, business, and learning. It forms the basis of our studio's design philosophy.
We call it procedural rhetoric: creating a simplified, simulated model of a thing in the world so that players can understand how it works (or how it's broken and needs fixing).
Over the years, our work has garnered substantial press in
major media outlets worldwide
some of the folks who've covered us:
Games communicate differently
from other media
they not only deliver messages
but also simulate experiences
Our games influence players to
take action through gameplay
While often thought to be
just a leisure activity,
games can also be
rhetorical tools.